乁(´• ω •`)ㄏ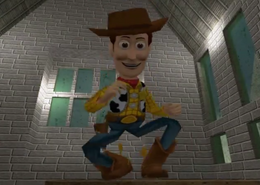 Woody is a cowboy, and the main character of the Pixar "Toy Story" Movies with Buzz Lightyear. In SuperMarioGlitchy4's videos, he only appears in the episode "Spells n' Wiztards".
Woody is a cowboy, then he dresses like any cowboy: he wears a brown cowboy hat, a yellow shirt with red squares and cow patterns, brown boots, jeans, and a brown belt.
Appearances in SuperMarioGlitchy4's videos
Edit

Created by Mario using a living spell on a Woody doll, he literally tried to kill the red plumber when he saw him.
He competes in the Olympics against Mario and the others.
Woody appeared when Mario sat on his eggs which made him mad and started chasing Mario but Mario fled. When Mario was picking berries, he saw Woody when he searched a bush so Mario walked away. Later Woody was fighting Sniper and won while Mario took Sniper's phone to buy a helicopter. Woody's design for this episode looks slightly different from his previous appearances.
He is seen in Bowser's dream in the audience. After Wario thinks Mario started a riot, Woody is seen fighting Dr. Eggman. In this episode, his design returns to his original look in Spells and Wiztards and Mario the Olympian.
Woody appears in Luigi's bar alongside many other people ordering some drinks there.
His "DIE B*TCH" phrase came from the Smosh video "If Scary Movies Were Real!".
Ad blocker interference detected!
Wikia is a free-to-use site that makes money from advertising. We have a modified experience for viewers using ad blockers

Wikia is not accessible if you've made further modifications. Remove the custom ad blocker rule(s) and the page will load as expected.