"I'm going to soft-screw your d!<k!"

―Toy Bonnie

This article is a
stub
. You can help us by
expanding it
.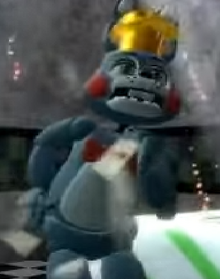 Toy Bonnie is an animatronic from Five Nights at Freddy's 2, and he also appears in the video Retarded64: Return to Freddy's Spaghettiria.
Personality
Edit
Toy Bonnie's personality is similar to Bonnie, except he is more like a pedophile. Also, he is active during both the night and day, plus he only gets hostile at night.
Physical Description
Edit
Toy Bonnie is sorta the same Bonnie, except he is a "Toy" version of the original Bonnie and he is more "kid friendly" than the original Bonnie.
Toy Bonnie's role in this video is only a minor role because he doesn't really do much in this video other than talk and do other things.
Ad blocker interference detected!
Wikia is a free-to-use site that makes money from advertising. We have a modified experience for viewers using ad blockers

Wikia is not accessible if you've made further modifications. Remove the custom ad blocker rule(s) and the page will load as expected.