"I AM MARIO! AND I AM TOO AWESOME FOR ANY OF YOU NEWBS!"

―TheAwesomeMario's 1st channel description, when Mario ran the channel
"SMG4's 2nd channel, bringing you the best MARIO animation shorts! This was originally Mario's channel but he got wasted from too much spaghetti and now SMG4 runs it."

―TheAwesomeMario's 2st channel description, after SMG4 took over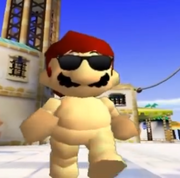 TheAwesomeMario is the YouTube account created by Mario and first appeared in the blooper "YouTube Mario?!", where, jealous of SuperMarioGlitchy4 and his YouTube account, he created his own to be better than his account. TheAwesomeMario account was also mentioned at the beginning of the video "MarioTube", when Mario walks into the castle and brags about the success of his latest video CASTLE TOUUUURRRR!!! :D.
On July 8, 2017, the channel was briefly renamed to MORE SMG4. However, due to huge criticism from fans, the MORE SMG4 video was deleted and the channel was reverted back to TheAwesomeMario. However, the description continues to say that SMG4 runs the channel, making the channel an official channel of Glitchy Boy.
After the New Year 2018 video, the channel once again became inactive, and by Febraury 2018, all TheAwesomeMario-related content, in both the video descriptions and the Glitchy Boy website, were removed.
Mario is one of the main characters in SuperMarioGlitchy4 bloopers. He is a crazy plumber who differs from the regular Mario.
Attributes
Edit
Mario is clearly not smart. It is shown in The Swap that Mario cannot tell what SMG4 tells him.
The YouTube username is "theawesomario" (without the uppercase S).
The name "theawesomario" is sometimes mispelled as "Theawesomemario" or "theawesmario".

Due to this, his channel's name was renamed "TheAwesomeMario".

Theawesomario's previous profile picture were from the title card of the blooper "Mario Swag" made by SuperMarioGlitchy4.
Theawesomario is in fact an altenate account of SMG4.

This channel would later become part of Glitchy Boy in 2017.

Toad actually created the name for Mario's YouTube channel, but Mario threatened to stab him if he talks about that anymore.
Since July 2017, SMG4 now runs Mario's channel after "he got wasted from too much spaghetti", but since fans have insisted on keeping the name, the TheAwesomeMario name is still in use.