This article is a
stub
. You can help us by
expanding it
.

The title of this article is conjectural; an official name for the article's subject has not been found, so it has been given a fitting title by editors. If an official name appears, it is requested that the article be moved to the correct name.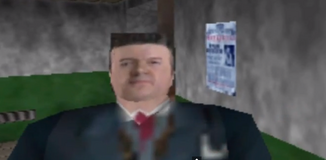 The Terrorist is a villian that has only appeared in 
Guards N' Retards: Swag Party Hostages
. He is also the boss of
The Butt Ninja
.
Appearances
Edit
It is unknown if The Butt Ninja was carrying out a plan that was given to him by The Terrorist in the blooper, Guards 'N Retards: The Butt Ninja.
The Terrorist's model is "Valentin Zukovsky" from GoldenEye 007 for the N64.

Coincidentally, the Butt Ninja is also based off the "Terrorist" from GoldenEye 007 for the N64.

This article is a
stub
. You can help us by
expanding it
.