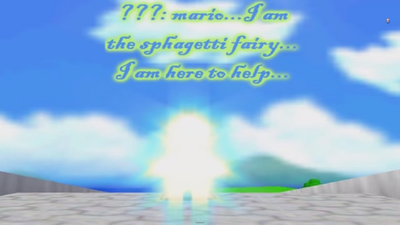 This article is a
stub
. You can help us by
expanding it
.

The Spaghetti Fairy is a fairy who only appeared in 0% of Spaghetti. They look like a white, glowing palette swap of Mario. They try to help Mario during the blooper, only for the latter to freak out and end up shooting her instantly.
Ad blocker interference detected!
Wikia is a free-to-use site that makes money from advertising. We have a modified experience for viewers using ad blockers

Wikia is not accessible if you've made further modifications. Remove the custom ad blocker rule(s) and the page will load as expected.