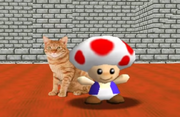 The tabby cat is a tabby cat that appeared in the SuperMarioGlitchy4 bloopers Ssenmodnar 5 and Retarded64: A Dose of Dr. Mario.
Appearances
Edit
Ssenmodnar 5 (WAT (shocked face) Edition
Edit
In this video, the tabby cat appeared in skit #2. In a parody of the ending of the castles in Super Mario Bros., Toad (the main character of the video) tells Mario that the Princess is in another castle, and Mario gets pissed. But then Toad says "BUT I BROUGHT THIS CAT!", then Mario and several other guys start cheering.
Retarded64: A Dose of Dr. Mario
Edit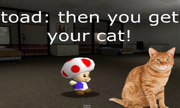 The cat appeared (still with Toad) in the last scene of the video.