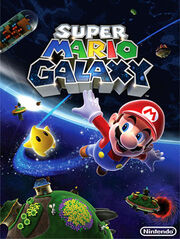 Super Mario Galaxy released on November 1, 2007 is a Wii game and the 4th main series 3D Mario game. This game has a sequel also on the Wii called Super Mario Galaxy 2 and was released for virtual console for Wii U on November 4 2016. It has received overwhelmingly positive reviews by professional critics.
SMG4 used a few aspects from this game in a few of his newer bloopers such as Shoot to the Observatory in the Sky and Stupid Mario Galaxy. Planets, enemies, allies, and locations from this game are sometimes present in some of his bloopers.
Ad blocker interference detected!
Wikia is a free-to-use site that makes money from advertising. We have a modified experience for viewers using ad blockers

Wikia is not accessible if you've made further modifications. Remove the custom ad blocker rule(s) and the page will load as expected.