"Hey! Can I be in your video?!"

―SMG69
SuperMarioGlitchy69

He is gonna die D:
Vital statistics
Current Status:
Possibly Deceased
Death count:
Exploded in the sun in Ssenmodnar 8 (150k special)
Appearences:
One blooper
Two Ssenmodnar videos
Physical attributes
Friends:
SMG4
Likes:
SMG4 adding him in SMG4's bloopers
v • t • e
SuperMarioGlitchy69 is Toad who kept trying to get SuperMarioGlitchy4 to add him in his bloopers. He appears in a few videos of SMG4 released in the years 2014-2015.
Appearances
Edit
List of Bloopers
Edit
He first appeared in How to make a blooper (according to smg4) where he was one of the three main characters annoying SMG4 at any time, along with Nintendofan997 and Steve.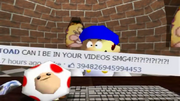 His next appearance was in Ssenmodnar 6.64(100k special Qna Edition), where he was still asking SMG4 to be in his videos, causing SMG4 to throw him out of the window.
His final appearance was in Ssenmodnar 8 (150k special), where he was still screaming from his previous appearances, making SMG4 ragequit and throw him into the sun, killing him (similar to how Super Saiyan Mario threw the cartridge of Mario Simulator into said Sun), implying that he probably died, as he has not been seen since.

Ad blocker interference detected!
Wikia is a free-to-use site that makes money from advertising. We have a modified experience for viewers using ad blockers

Wikia is not accessible if you've made further modifications. Remove the custom ad blocker rule(s) and the page will load as expected.