FEATURED CHARACTER: LUIGI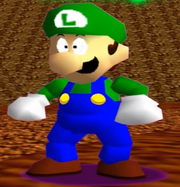 Luigi, Mario's slightly-younger twin brother, is a green-clad Italian plumber from the Mario franchise and a secondary protagonist in SuperMarioGlitchy4's bloopers.
Luigi is kinder and more understanding than most of the other characters. He is often cheery, enthusiastic, fun, and ready to lend a helping hand. His main weaknesses are his cowardice, in which he gets very nervous when doing something dangerous or immoral, and his easily-exploited kindness, which often results in him being treated like a doormat.
However, when pushed too far beyond the limit, he has been seen to get angry. On these rare instances, he can be very unrelenting and mean, though he usually reverts back to his normal personality when he calms down.
Luigi has often been accused of being gay. He usually denies this, but he has shown homosexual behavior many times. He was attracted to Daisy in The Adventures of Mario and Luigi - Ep. 4, Awkward Weddings and also watched naked men on SMG4's computer, so he may be bisexual.
---
Featured Archives | Featured Vote
SMG4: Mad Mario is the forty-ninth episode of Season 8 and the four hundred and fifty-sixth overall to be uploaded by SMG4.
This episode was aired on November 10th, 2018.
In a post apocalyptic Mushroom Kingdom, it's every man for themselves. What will Mario do to survive?
FEATURED POLL
Which character do you like?
BLOGS
Create blog post
Blogs
User:JustDavis just got blocked on the Just Dance wikia, godflammit User:M…

Read more >

Besides SMG4, are there any other youtubers that you like?

leave me a comme…

Read more >




Hello everyone, yep you guess it, this is an content cop via a blog


Before…


Read more >
See more >
DiscordIntegrator error: ID of the server isn't supplied. On instructions how to find a Discord server ID, see this
ABOUT SMG4
SuperMarioGlitchy4 (SMG4 for short, formerly Smg4 and also known as Glitchy in Mario in Real Life!?) (born May 24, 1999) is predominantly a Super Mario 64 machinimist. He also uses material from Minecraft, Garry's Mod, and other media. SMG4 devotes a lot of his time to making these videos, usually uploading a new video every weekend, and sometimes accepts works such as fanart from his channel's viewers and subscribers. In his videos, he often uses quotes, music, and stuff from other famous YouTubers like PewDiePie and Smosh as well as from movies, video games, memes, or TV shows. SMG4 heavily practices self-insertion, in that an SM64-styled avatar of him is one of the main protagonists (besides Mario himself) of the bloopers. From his debut, SMG4's character has been passionate and protective of his work; that aside, he seems to play the sane man who is often annoyed or shocked by Mario's crazy, flamboyant idiocy. But in most videos, they are friends.

POLL #1
Which recent blooper did you like most?
POLL #2
What would give "War of the Fat Italians 2018"?
SMG4 QUIZ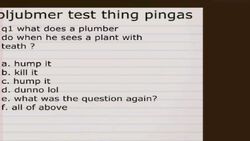 Try out your SMG4 knowledge in this Quiz.
NOTE: The quiz wasn't done created yet.