The title of this article is conjectural; an official name for the article's subject has not been found, so it has been given a fitting title by editors. If an official name appears, it is requested that the article be moved to the correct name.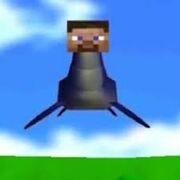 "I am a Stegosaurus."

―Steve-Dorrie Hybrid
The Steve-Dorrie Hybrid is a hybrid of Steve and Dorrie who made cameo appearances in a few videos of SuperMarioGlitchy4 made in 2014.
Physical Description
Edit
Steve-Dorrie Hybrid is a Dorrie with a Steve head.
Appearances
Edit