Note: This character is female, as she is based on someone who is female in real life. Thank you for your understanding.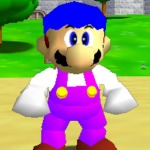 SMG4's Minion
(A.K.A.
Minion
) is a female Youtuber/character that works with 
SuperMarioGlitchy4
.
In SMG4's canon, Minion was created in the cloning machine by SuperMarioGlitchy4 in SM64 Bloopers: Luigi Labyrinth, but strangely has some cameo appearances before she was created. She shares SMG4's DNA, therefore she is technically his sister.
Personality
Edit
Minion is stupid in the mind, perhaps to Mario level, however has some outright moments of genius at times. She is extremely flamboyant.
Minion has a love for things that seem cute and harmless to her. In SM64 Bloopers: Luigi Labyrinth, she wanted to hug a Luigi Doll in thinking that it was "cute." In the ending, she opens up a new store called The Luigi Doll Shop and asks if anyone wants to buy a Luigi, but Mario doesn't let anyone buy the real one, which isn't a clone of himself.
Appearances
Edit