This article includes some real-life information about SMG4. This is not to be confused with SMG4's real life self as a character.
"

i LIVE IN A WORLD OF MULTICOLORED MARIOS ._.

"
—SMG4's YouTube Channel slogan
"

My YouTube animation channel is what you get when you cross Nintendo with stupid ass memes.

"
—SMG4's new YouTube Channel slogan
"

WHAT IS UP! My channel is what you get when you cross Nintendo and stupid ass memes.

"
—SMG4's newer YouTube Channel slogan
"

I make stupid Mario animations.

"
—SMG4's current YouTube Channel slogan
SuperMarioGlitchy4 (SMG4 for short, formerly Smg4 and also known as Glitchy in Mario in Real Life!?) (born May 24, 1999) is predominantly a Super Mario 64 machinimist. He also uses material from Minecraft, Garry's Mod, and other media. SMG4 devotes a lot of his time to making these videos, usually uploading a new video every weekend, and sometimes accepts works such as fanart from his channel's viewers and subscribers. In his videos, he often uses quotes, music, and stuff from other famous YouTubers like PewDiePie and Smosh as well as from movies, video games, memes, or TV shows. SMG4 heavily practices self-insertion, in that an SM64-styled avatar of him is one of the main protagonists (besides Mario himself) of the bloopers. From his debut, SMG4's character has been passionate and protective of his work; that aside, he seems to play the sane man who is often annoyed or shocked by Mario's crazy, flamboyant idiocy. But in most videos, they are friends.
Channel Description
SMG4 is an animated show by Glitch Productions following Mario going on stupid adventures!
New SMG4 episode every Saturday 9am PST New Hitbox episode around the middle of each month!
For business contact me at: smg4@glitchyboy.com
Channels
THAT BAFOON!
This article, transcript, or section is incomplete and needs to be completed. Any user is obliged to do so.
Trivia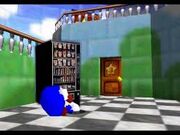 SMG4 joined YouTube on February 13, 2009 although he didn't post a video until May 7, 2011.

In person, SMG4 hates spaghetti.
He was 19 years old (at the time).
His colours are: Blue cap, arms, and shirt, and white overalls.
His favourite game is Super Mario 64.
His favorite non-Mario game is Team Fortress 2.
His favorite food is rice and chicken.
The bloopers he had the most fun making were the Ssenmodnar series.
SMG4 doesn't enjoy listening to the Jonas Brothers.
The song that best describes him the most is Justin Bieber's "Baby".
SMG4 would live underwater in a magical place full of ponies and Teletubbies. This is strange because he said he doesn't like Teletubbies in "Super Mario 64 Bloopers: 0% of Spaghetti", and he is often scared of them in his bloopers.
In person, SMG4 doesn't like school.
SMG4 was pretty "demented" as a child, just playing games.
SMG4 has a look-alike character alongside Wario and Waluigi in The Super Mario Bros. Super Show! episode, "Plumber's Academy".

His video Who let the chomp out?" accumulated more than 10 million views in just 7 months. It still remains as his most popular video today.
It is implied in several bloopers that SMG4 might actually be gay, or at least bi. This is most strongly evidenced by a major scene in "Mushroom Wars: That Space Part 2", where SMG4 not only takes the gang to a gay bar, but he is approached by a naked man saying that his "butt had gotten bigger since the last time he was there". However, in "Ssenmodnar 6.64 (100k special Qna Edition)", he stated he was not gay.
SMG4's color code may be based on the color skin for Player 4 in the minigame Mario Bros. Battle in the Super Mario Advance series.
In "Ssenmodnar 6.64 (100k special Qna Edition)", SMG4 stated that MegaMan765's SM64 Bloopers were (probably) what inspired him to start making bloopers himself.
SMG4 has watched some YouTube Poops of his bloopers, most of them were by NationOfOranges696, and liked and commented on them.
SMG4's birthday is on May 24 and is 19, meaning he was born on May 24, 1999.
He's the most subscribed SM64 Machinimist/blooper maker on YouTube.
He appears in the fan-made game "Super Smash Bros. Lawl" as a playable character.
MarioMario54321 made him a protagonist in his new movie Back to the Fourth Dimension (The Rainbow Colonies).
When SMG4 first made his channel, he named it "supermarioglitchy4" before eventually shortening the name in 2014.
SMG4 supposedly has some alt accounts, although he never actually reveals it, although one is theawesomario.
SMG4 finally showed his real life appearance in the ALS Ice Bucket Challenge and Mario in Real Life?!?!, proving he is indeed the guy from the end of Da Glitch.
'SMG4's favorite Mario game other than SM64 is Super Fat Mario as stated in his Q & A Video video.
In Guards N' Retards: Prisoners, one of the drinks in the video is Solo. Solo is an Australian drink, the same country he lives in.
SMG4's character is shown to be a meme dealer in newer episodes.
External links
If you want to learn more about or talk to SMG4, you can use the following links to view his accounts/pages on other wikis: