乁(´• ω •`)ㄏ
Enzo (a.k.a. Roprinplup14)

Enzo as seen in the video "The Pink Problem".
Vital statistics
Current Position:
YouTuber
Also known as:
Roprinplup14 (his YouTube name)

Crazy Birthday Guy (only by Mario in SMG4's video "The Visitor.")

Physical attributes
Friends:
SMG4 (formerly), Mario (formerly), SuperMarioGlitchy3 (formerly), MarioMario54321, Starman3, Pinkolol16
Enemies:
Mario, SuperMarioGlitchy4, Princess Peach, Bowser, Toad, Luigi, SuperMarioGlitchy3, Steve, Villager
v • t • e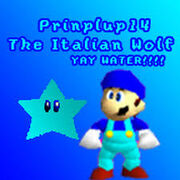 Roprinplup14 (or Enzo) is a "friend" of SuperMarioGlitchy4 who resides at the castle. Enzo was arrested on his birthday in the blooper "Birthday Freakout" and was plotting his revenge to "kill Mario and SMG4 once and for all". He later reappears for revenge in the blooper "The Visitor.", which was made a year later once again on his birthday, but seems to get arrested a second time. He makes a few appearances afterward, with his most recent (and prominent) appearance being in Christmas Crazies, in which he (and the Villager) escapes prison once again to exact bloody vengeance against Mario and co. for ruining his birthday, but he (and the Villager) doesn't go to jail. He makes soundtracks and gameplay. He's also a friend of MarioMario54321.
Color code
Edit
Roprinplup14's color code is old: it was made years ago, before the color code generators. Here is it:
Blue sky overalls,
Dark blue cap, arms and shirt,
White gloves (like Mario, Luigi and several other guy's),
Brown shoes (like Mario's),
Normal skin, (like Mario's),
Brown hair (like Mario's).
Appearances
Edit
Murder Victims
Edit
His YouTube username is: "Roprinplup14" and appears as this name in "The Imposter" with the name "Prinplup", but was later renamed to "Enzo".
Oddly enough, he wasn't insane in Ssenmodnar 7, where he gave Mario some seeds for the Toad Birds, meaning he went insane after getting reminded of Mario ruining his birthday party.
His birthday is on October 20.
He has over 1060 subscribers.
External links
Edit