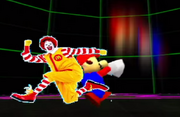 Ronald McDonald, or more generally Ronald, is a clown character, and was the mascot of the famous fast food company McDonald's. He makes brief cameo appearances in a few videos of SuperMarioGlitchy4.
Physical Description
Edit
Ronald McDonald is a clown with a white skin and red hair. His clothes are white striped red on the arms and legs, and yellow on the other parts of his body. He has yellow hands (which are possibly his gloves) and he wears red shoes.
Appearances in SuperMarioGlitchy4's videos
Edit
(Note: this list may be incomplete)
Ad blocker interference detected!
Wikia is a free-to-use site that makes money from advertising. We have a modified experience for viewers using ad blockers

Wikia is not accessible if you've made further modifications. Remove the custom ad blocker rule(s) and the page will load as expected.