Note: This article is about the character named "Rocks". For the similarly named species, which Rocks belongs to, see Magic Rock.

"Did somebody say "wizard"?"

―Rocks in any scene where somebody says "wizard"
Rocks is recurring character in SuperMarioGlitchy4's earlier bloopers. As his name implies, he is a Magic Rock. He often appears dressed as a wizard, and is referred to as such by the subtitles in these cases.
Physical Description
Edit
Rocks looks like a grey, rock-like polygon. With his right side facing the viewer, as in the image above, he has a concave chip near the left cheek, and a large amount of body mass on the right. Rocks' eyes are composed of two largish dots high up on to his body. His mouth is slightly lower than the center of his body, and appears to be a freehand line segment drawn slightly wavily.
It first appeared in the episode "The Switcheroooveralls", where 
Nintendofan997
 (dressed was
Luigi
) and asked 
Toad
 if he wanted to switch like everyone else, and once he agreed, Xbofan997 swapped him with a rock. Later in the blooper Toad (as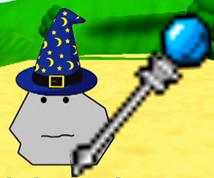 the rock) asked for X to throw him by the trash can but accidently threw him into 
Bowser's Lair
. So X got a replacement rock.
Rocks later appears in many other bloopers as a magic wizard who helps Mario and his friends out many times and also sometimes thrown as a random projectile or at a person.
When he is a wizard, they also appear if somebody says "wizard", asking "Did somebody say wizard?". However more recently, SuperMarioGlitchy4 and Mario have started cutting him off before he can finish the line the rock says.
Appearances
Edit
SMG4's "sister" came up with the idea for Rocks, as stated in the credits of Rocks' debut appearance, The Switcheroooveralls.
It is revealed in The SMG4 QNA (400k Subs :D) that Rocks is SMG4's favorite character.

He's face looks like the meme Poker Face, the face who has no reaction.