乁(´• ω •`)ㄏ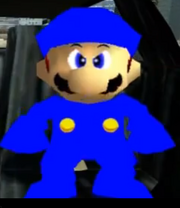 "

STAHP RIGHT THERE!

"
—The policemen's catchphrase
"

BULLSHIT!

"
—Another catchprase
"

Stop breaking the law, asshole!

"
—Another catchprase again
Policemen (also known as Officers and Cops') show up when a law is being broken. They are notable for the catchphrase "STAHP RIGHT THERE!" They appear in a number of SuperMarioGlitchy4's videos. The policeman's color code is blue all over, except his skin which is left at the default color.
Appearances
Edit
The Policeman tends to break walls with his car to make his appearance.
In Crime Time, they mostly appear as Garry's Mod models.
The policemen's catchphrase were originally voiced by Ian Hecox (as Sergeant Anous) of Smosh, in the episode How to Cover up a Murder.