"Sit yo five dolla @ss down before I make change!"-Po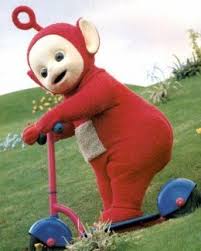 Po is a Teletubby who is red and has a circular antenna. She usually appears in SuperMarioGlitchy4's bloopers. Other Teletubbies that resemble Po appear in his videos, too. These Teletubbies include Tubbie Wonka, SwagTubbie, Miss Tubby, and Tubby Bison. Also, Mario's Anger emotion is represented as Po wearing Mario's hat.
Po is the Teletubby that appears the most in SMG4's bloopers, including his/her alt clone.
Po, Miss Tubby, and SwagTubbie are female whilst Tubby Bison and Tubby Wonka are male.
It is possible that Po is lesbian considering she was engaged in sexual activities with a girl at Dipsy's night club in Tubbie TV.

However, this can be disproven by the fact that it was on the TV show that the Teletubbies were watching.

SMG4 mistakenly refers to Po as a boy in The SMG4 QNA (400k Subs :D). This could be that a male Teletubby identical to Po is SMG4's pet.
She seems to like Mario's rear end, as shown in The Hangover.
|-|Gallery =
</tabber>