Other Toad is an otherwise unnamed Toad making limited appearances and cameos in SMG4's bloopers. While the name "Other Toad" usually refers to the Toad in the upper hallway of the castle, it can also refer to any Toad other than Toad.
According to The Elevator, Luigi owes Other Toad money.

Another toad appeared in President Toad Washington, where he competed with Toad for the presidency of the Mushroom Kingdom. Other Toad also appeared in Super Mario Attorney.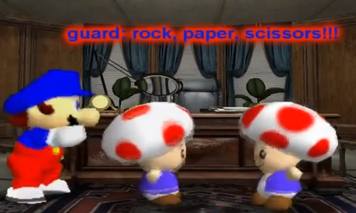 This article is a
stub
. You can help us by
expanding it
.

Ad blocker interference detected!
Wikia is a free-to-use site that makes money from advertising. We have a modified experience for viewers using ad blockers

Wikia is not accessible if you've made further modifications. Remove the custom ad blocker rule(s) and the page will load as expected.