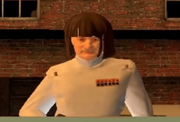 "GET THE F**K OUTTA HERE!"

―Oompa Loompa
Oompa Loompas are workers at the Retarded Spaghetti Factory. They appeared in Retarded 64: Mario and the retarded spaghetti factory, where they tried to throw Mario out of the factory.
Oompa Loompas first appeared in the book Charlie and the Chocolate Factory, which the Retarded Spaghetti Factory is based upon.
They wear an imperial officer's uniform from Star Wars. Some have plain gray, while others have white.

This article is a
stub
. You can help us by
expanding it
.