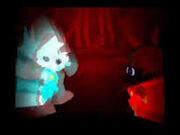 OiramOiram12345 X
is an "X" version, a super-form of
OiramOiram12345
, made when he merged with the
Dark Star X
, in MarioMario54321's videos. Like
MarioMario54321 X
, he is seen in SMG4's video
"The Blooper Competition
" for a split second when
MarioMario54321
was showing his video. The scene that MM54321 showed was actual footage from his video: "
OiramOiram12345 and the Dark Star X - Part 29
. But he also makes a cameo appearance in the blooper "
0% of Spaghetti
" on a television in the
guy
's house.
External link
Edit
If you want to obtain more informations about OiramOiram12345 X, you can go on his article on the MarioMario54321 Wiki --> Click here if you want to see it.
Ad blocker interference detected!
Wikia is a free-to-use site that makes money from advertising. We have a modified experience for viewers using ad blockers

Wikia is not accessible if you've made further modifications. Remove the custom ad blocker rule(s) and the page will load as expected.