This article is a
stub
. You can help us by
expanding it
.

GODD@MMIT!!! YA GOT PAINT IN THE GOD@MN HOUSE!!! B!TCH!!!
-Noo-Noo after Laa-Laa spilled Tubby Custard all over herself. S̶M̶6̶4̶: `•.¸¸.•´´¯`••. .• ( Tubbie TV ) •. .••`¯´´•.¸¸.•`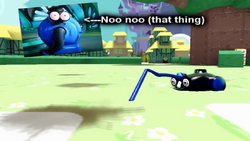 Noo-Noo is the cleaning robot of the Teletubbies which could be both a guardian & cleaner. His first and only appearance was in "Tubbie TV".
Appearances
Edit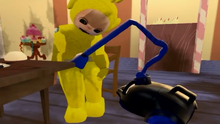 In Tubbie TV, the Noo-Noo first appears in the blooper after Tinky Winky throws Po out of the house. The Noo-Noo is seen to clean up all the Tubby Custard. He then has a conversation with Po before going to Laa-Laa's house, where she is watching the Sonic Says segment from Adventures of Sonic the Hedgehog. Laa-Laa then eats Tubby Custard and spills it all over her, much to the Noo-Noo's annoyment. He then smacks her in the head and starts cleaning her, however his nozzle touches Laa-Laa's vagina. Laa-Laa then shouts "MOLESTER!!!", causing Tinky Winky to appear this time as a cop and shoot the Noo-Noo out of the house.
Noo-Noo doesn't look like how he normally looks in the TV series. However, this could be because there is no Noo-Noo ragdoll in GMod yet.