"MWAHAHAHA NOT FUNNY!"

―Nintendofan996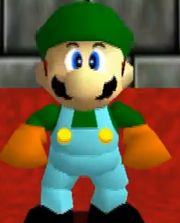 Nintendofan996 or Nintendofan998 (formerly Xboxfan996 or Xboxfan998) is an evil guy who first appeared in Orbical Adventures, where he makes Mario chose between the orb and his brother but his name is just ???, however when he is brought back in smg3's plan to destroy smg4 cause he felt like it, his name is revealed as Xboxfan996 or Xbox996 for short. He also appears in the commercial Join the Evil Side. He is clearly called this because his color code is the exact opposite of Xboxfan997's, because he is the evil clone of him. He is SuperMarioGlitchy3's best friend.
Color code
Nintendofan996's color code is the (nearly) exact opposte of Nintendofan997's.
Sky blue overalls
Dark Green cap, arms and shirt
Brown gloves (they, in fact, appear nearly orange, unlike X's shoes)
Black shoes
Brown hair (as Mario, Luigi and many other guys)
Trivia
In SMG4's videos, Nintendofan998 (or Xboxfan998) is called Xboxfan996 for an unknown reason.

It's possible that SMG4 mispelled his name in his bloopers.
Ad blocker interference detected!
Wikia is a free-to-use site that makes money from advertising. We have a modified experience for viewers using ad blockers

Wikia is not accessible if you've made further modifications. Remove the custom ad blocker rule(s) and the page will load as expected.