The title of this article is conjectural; an official name for the article's subject has not been found, so it has been given a fitting title by editors. If an official name appears, it is requested that the article be moved to the correct name.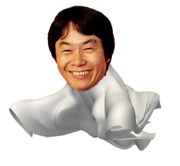 Miyamoto's Ghost is a ghost with the head of Shigeru Miyamoto who appears in the bloopers Cooking with Bowser and Mario, Retarded64: Mario Simulator, Ssenmodnar 6.64, and (Both Halloween specials) Halloweegee Special 2014, Halloween 2015: The 2Spooky story, and other videos.
Appearances
Edit
Miyamoto's Ghost is likely an homage to a segment in JonTron's Banjo-Kazooie: Nuts & Bolts review. Where he describes what if Super Mario 64 was teased as a platformer but released as a city simulator. Leading to the Miyamoto Ghost segment.
In reality, Shigeru Miyamoto is still alive.
"WHO LIKES THE OLD MARIO GAMES, AM I RIGHT!?" -Retarded64: Mario Simulator
"Boo! I'm a ghost now!" - Halloweegee Special 2014
"I am you...from the future!" - Cooking With Mario and Bowser
(Five nights at freddy's 2 death sound)- Retarded64: Return to Freddy's Spaghetteria