Miles "Tails" Prower

Vital statistics
Current Age:
8
Current Status:
Alive
Physical attributes
Height:
80 cm (2' 7")
Weight:
20 kg (44 lb)
Friends:
Sonic the Hedgehog
Enemies:
Dr. Eggman
Likes:
Sonic
v • t • e
"Notice me, Senpai!"

―Tails' only line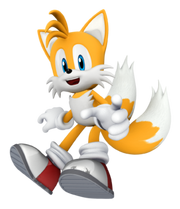 Miles Prower, nicknamed Tails, is a fox who is one of Sonic's best friends. He appears thrice in "Sonic the derphog: Eggventure (GET IT!?)", the first time after Sonic shoots Omochao, the second time while Sonic is falling in an attempt to commit suicide, and the third time when Eggbot 2.0 is teleporting to the Sonic World. He also appears in "Sonic the Derphog: Showdown of the Idiots" when Sonic tells Eggman to be like him. This makes Tails go into "Senpai Mode".
Sonic is Tails' Senpai as shown in Showdown of the idiots.
Ad blocker interference detected!
Wikia is a free-to-use site that makes money from advertising. We have a modified experience for viewers using ad blockers

Wikia is not accessible if you've made further modifications. Remove the custom ad blocker rule(s) and the page will load as expected.