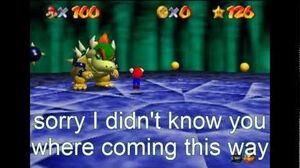 Mii Channel Teleport is the 74th video made by SuperMarioGlitchy4.
Plot Summary
Edit
This short is a sequence featuring Mario warping around Super Mario 64 maps to the rhythm of the Mii Channel music.
The video begins with Mario warping around the grounds of Princess Peach's Castle to the beat of the Mii Channel music. He enters the castle and begins to flit around Toad; the latter tells him to go away. Mario visits Bob-Omb Battlefield and overthrows King Bob-omb, then returns to the castle to continue annoying Toad. Mario begins teleporting to Bowser in the Dark World, and begins spinning Bowser by the tail, still roughly to the beat of the melody. He is about to throw Bowser when the latter damages him, screwing up the sequence and stopping the music. Lakitu states that the video will need to be rerecorded because of this, much to Mario's frustration.
Characters
Edit
The video should not need to be rerecorded from the beginning because:
Ad blocker interference detected!
Wikia is a free-to-use site that makes money from advertising. We have a modified experience for viewers using ad blockers

Wikia is not accessible if you've made further modifications. Remove the custom ad blocker rule(s) and the page will load as expected.