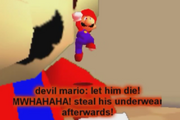 Mario's Conscience
 consists of Devil Mario and Angel Mario, who both appear in "
the Toadassass-ination
".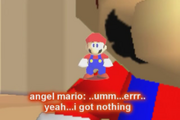 When
Ben
is about to kill
Toad
, Devil Mario appears on Mario's right shoulder and hopes Toad will die, while Angel Mario appears on Mario's left shoulder saying that he got nothing. Mario, now realizing that someone else will kill Toad, goes outside. This angers Ben and causes him to shoot Mario in the testicles before he even steps out of the building.
Ad blocker interference detected!
Wikia is a free-to-use site that makes money from advertising. We have a modified experience for viewers using ad blockers

Wikia is not accessible if you've made further modifications. Remove the custom ad blocker rule(s) and the page will load as expected.