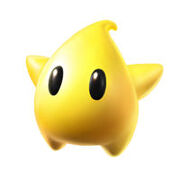 Lumas
are baby
Stars
from the
Super Mario Galaxy
video games series. They are very loyal to the Princess
Rosalina
, who considers them as her children. In
SuperMarioGlitchy4
's canonity, they currently have only appeared in his video "
Shoot to the Observatory in the Sky
".
Physical Description
Edit
They look like stars and come in the following colors: red, green, yellow, blue, black, or even purple.
One of the Lumas gets mad at Mario every time he comits suicide, as he says,"Oh hell no! I ain't hauling his fatass back again!" He also appeared in front of Mario when he tried commiting suicide again.
A lot of the Lumas are black in Shoot to the Observatory in the Sky. However, Polari is the only black Luma in Super Mario Galaxy.

This article is a
stub
. You can help us by
expanding it
.

Ad blocker interference detected!
Wikia is a free-to-use site that makes money from advertising. We have a modified experience for viewers using ad blockers

Wikia is not accessible if you've made further modifications. Remove the custom ad blocker rule(s) and the page will load as expected.