"Today, we're looking at… the wild Luigi Doll!"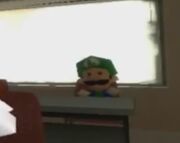 Luigi Dolls are dolls that resemble Luigi. They sometimes appear in the background of SuperMarioGlitchy4's videos, and made a major appearance in the blooper "Ssenmodnar 7 (TOAST Edition)" where many of them appeared in the wilderness. Luigi Dolls also made another major appearance in the blooper "Luigi Labyrinth" where cloned Luigi Dolls are taking over the Mushroom Kingdom and SMG4 and Mario must find a way to stop them from doing so.
Appearances
Edit
This list is incomplete. You can help by expanding it.
Behaviour
Edit
Luigi Dolls communicate by using voice clips of Luigi from Nintendo games. Luigi Dolls have been seen eating mushrooms, but it is unknown if they eat anything else. They also breed and mate, just like any other living thing on earth. Enough said. Need I say more?
The Luigi Dolls in question originated from Mario Party 2.
Ad blocker interference detected!
Wikia is a free-to-use site that makes money from advertising. We have a modified experience for viewers using ad blockers

Wikia is not accessible if you've made further modifications. Remove the custom ad blocker rule(s) and the page will load as expected.