Lakitu

Vital statistics
Current Position:
Films all SMG4 videos.
Current Age:
Unknown
Current Status:
Alive
Physical attributes
Height:
Unknown
Weight:
Unknown
Likes:
Technology
Dislikes:
Mario, (formerly) His current job
v • t • e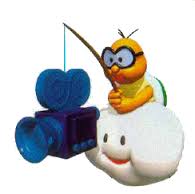 Lakitu
is a character in
SuperMarioGlitchy4
's
Super Mario 64 Bloopers
, debuting in the first blooper,
The Cake Is a Lie!
; overall, however, his appearances are mostly limited to the earlier
videos
. Cameraman, mechanic and nerd, Lakitu is constantly filming Mario, and constantly riding a cloud that sometimes becomes invisible.
Mario in real life!? (200 vid special)
. His latest cameo appearance is
Super Mario 64 Bloopers: Problematic Pipe Problems
. According to
Mario
, no one loves him.
In Super Mario 64, two particular Lakitus known as the "Lakitu Bros." do not serve as enemies, instead becoming important characters. As self-proclaimed "seasoned cameramen", the Lakitu Bros. are tasked with filming Mario live on his latest journey: the Lakitu Bro. holding the camera could be rotated and zoomed around Mario with the C-Pad, allowing better camera angles during gameplay. The Lakitu we know from SMG4's bloopers is likely a parody of or reference to these characters. Lakitu, it seems, has grown tired of filming Mario's idiocy. He is quick to make snarky interjections to anything Mario says, rather than giving game advice as the Lakitu Bros. did.
Personality
Edit
Lakitu is a snide, sarcastic techie who seems rather fed up with not only Mario, but also his current occupation. He is also a nerd, and has much knowledge about technology, cameras and photography in particular.
Appearances
Edit
Ad blocker interference detected!
Wikia is a free-to-use site that makes money from advertising. We have a modified experience for viewers using ad blockers

Wikia is not accessible if you've made further modifications. Remove the custom ad blocker rule(s) and the page will load as expected.