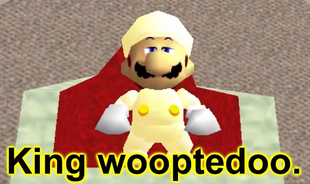 King Wooptedoo is the king of Whoop Whoop Kingdom in SM64 Bloopers: Castle Royale.
He apeared in this blooper along His wife Queen Stephe and his son Prince Big Whoop
Personalitiy
Edit
King Wooptedoo is very polite and he always says ''hum hum'' when he's going to speak, even though that he's also seen to be a little bored and exctrict. He seems to hate the Whoop Whoop national anthem.

This article is a
stub
. You can help us by
expanding it
.

Ad blocker interference detected!
Wikia is a free-to-use site that makes money from advertising. We have a modified experience for viewers using ad blockers

Wikia is not accessible if you've made further modifications. Remove the custom ad blocker rule(s) and the page will load as expected.