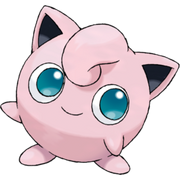 Jigglypuff is a Pokémon species know as the Balloon Pokémon. It appears in SuperMarioGlitchy4's videos "WELCOME TO POKEMANS!" and "Bad Star's Back! 300k special".
Physical Description
Edit
Jigglypuff is shaped like a round ball, with pink skin, large blue or green eyes, catlike ears, and a tuft of fur on its forehead. It can inflate its body like a balloon, but has never been seen doing that in SMG4's bloopers.
Appearances
Edit
In SMG4's videos, a wild Jigglypuff appeared in the blooper "WELCOME TO POKEMANS!", in which it jumped rope on Luigi and later transmitted him a disease called Jigglyaids, causing the green plumber to faint. This event in fact happened in a Pokémon video game SMG4 was playing.
A Jigglypuff also made a cameo appearance as a news reporter in the video "Bad Star's Back!" at
Delfino Plaza
, being bothered by the
Old Man Star
singing IceJJFish's "On the Floor" on a boat, while it was doing a report on Fox News Channel, talking in a Fox News microphone.
Ad blocker interference detected!
Wikia is a free-to-use site that makes money from advertising. We have a modified experience for viewers using ad blockers

Wikia is not accessible if you've made further modifications. Remove the custom ad blocker rule(s) and the page will load as expected.