Italian Kidnapping
is the 28th video made by
SuperMarioGlitchy4
.

This article is a
stub
. You can help us by
expanding it
.

Plot (Summary)
Edit
Mario gets kidnapped by a bad guy who works for Bowser, who starts to torture Mario with cake! Who can save him? Mario gets saved by two unlikely friends in the end.
Characters
Edit
This is the first blooper to feature Bot. (as いくつかの名前, or "some name")
In this blooper SMG4 makes a reference to the myth of unlocking Luigi in Super Mario 64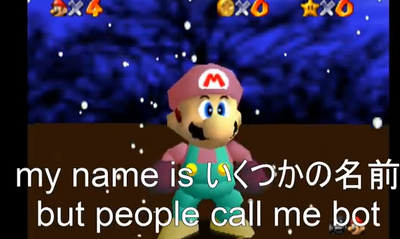 Ad blocker interference detected!
Wikia is a free-to-use site that makes money from advertising. We have a modified experience for viewers using ad blockers

Wikia is not accessible if you've made further modifications. Remove the custom ad blocker rule(s) and the page will load as expected.