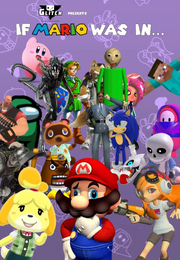 The If Mario was in... series is an ongoing series of bloopers, starring Mario and his antics within videogames where he never originally appeared. Despite being crossover videos in concept, they are mainly made with Garry's Mod and Super Mario 64 elements over assets from the actual game.
The events of the bloopers usually start because of Mario's shenanigans ensuing near a portal to the other world, or because someone kidnaps Mario and brings him into the game in question.
There are currently nine episodes in the series.