乁(´• ω •`)ㄏ
God is the creator of all things and lives in the heavens. He did not physically appear until Ssenmodnar 7 (TOAST edition), where He takes MarioMario54321 to heaven. He also makes a minor appearance in SM64 Bloopers: The Idea Block.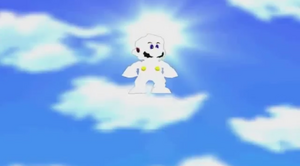 Appearances
Edit
And mentioned in others.
The preferred God of the Teletubbies is the Sun Baby.
Ad blocker interference detected!
Wikia is a free-to-use site that makes money from advertising. We have a modified experience for viewers using ad blockers

Wikia is not accessible if you've made further modifications. Remove the custom ad blocker rule(s) and the page will load as expected.