乁(´• ω •`)ㄏ
God is the creator of all things and lives in the heavens. He is powerful enough that it is impossible to beat him. He did not physically appear until Ssenmodnar 7 (TOAST edition), where He takes MarioMario54321 to heaven. He also makes a minor appearance in SM64 Bloopers: The Idea Block.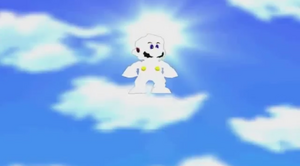 Appearances
Edit
And mentioned in others.
The preferred God of the Teletubbies is the Sun Baby.