The title of this article is conjectural; an official name for the article's subject has not been found, so it has been given a fitting title by editors. If an official name appears, it is requested that the article be moved to the correct name.
乁(´• ω •`)ㄏ
The Evil Noob was an unnamed villain who antagonized 
The Mystery of the Missing White and Blue (40,000 subs special)
. He was a Sm64 Blooper maker who was jealous of SMG4 due to the fact that he made bad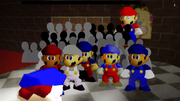 bloopers but 
Smg4
 make good bloopers and got popular, so he allied with 
Smg3
 to kidnap SMG4, trap him in a garage, and torture him with 
Teletubby Images
. Eventually though, when he was foiled and revealed, the Evil Noob confessed that he just wanted SMG4 to teach him how to make good bloopers like him.  After SMG4 refused, the Evil Noob detonated a bomb, which blew up the whole garage, fatally killing the Evil Noob and injuring
Mario
, SMG4, SMG3, and 
Sm3
 (Although SMG3 never appeared in the hospital). He also appeared as a cameo in 
The Idea Block
, as an angry fan.