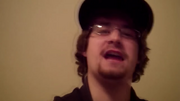 DatVoiceGuy
,
DVG
for short and previously
llSuperMarioll
, is a
YouTuber
who does voice impressions of various different fictional characters, including many from the
Mario
franchise. He has done voice acting for several of
SuperMarioGlitchy4
's
videos
. His main videos are horror gameplays while making impressions of Nintendo characters, specifically from the
Mario
series.
Voice appearance:
Edit
Appearances
Edit
DatVoiceGuy appears in a video in SMG4 VS ALS Ice Bucket Challenge.
In SMG4's videos, DatVoiceGuy is the second YouTuber to not appear as a recolored Mario of Super Mario 64, the first being Lilyncookies. He's also one of the YouTubers who does voices for characters but don't have SM64 Machinima Accounts.
DatVoiceGuy has revealed that he may have to stop voice acting due to domestic problems. SMG4 posted a message persuading his fans to support DVG through these hard times.
llsupermarioll had 7948 suscribers but DVG has over 40100 suscribers
While Bowser usually uses voice clips from Mario games or YouTuber Zuki_XD, DVG voiced him once in SM64: Ssenmodnar 6 (New Year's Edition).
External links
Edit