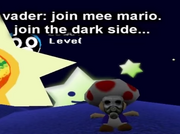 Darth Toad
is
Toad
's gasmask-wearing Darth Vader-expy alias for the parody series
Mushroom wars: that space series?
, wherein he takes
Princess Peach
aboard his space station, the
Weegee
Star, and battles
Mario
with cookies and sexy dances. He presumably dies when the station explodes. However, his death is non-canon. 

This article is a
stub
. You can help us by
expanding it
.

Ad blocker interference detected!
Wikia is a free-to-use site that makes money from advertising. We have a modified experience for viewers using ad blockers

Wikia is not accessible if you've made further modifications. Remove the custom ad blocker rule(s) and the page will load as expected.