The title of this article is conjectural; an official name for the article's subject has not been found, so it has been given a fitting title by editors. If an official name appears, it is requested that the article be moved to the correct name.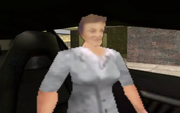 The Crazy Woman is, as the name suggests, a crazed woman that appears in Guards N' Retards: the butt ninja, and makes a special cameo appearance in The Wacky Wario Bros.: The Winning Ticket. The woman wields a machine gun and is set off by anything. She first appears in a metal corridor, and then in a bathroom stall. She is obsessed with raisins. She is later shown shooting Greg as Chris and Swag sneak by. It is unknown what her purpose in the factory is. She is mentioned in Guards N' Retards: Pointy things, and is seen again in Guards N' Retards: Prisoners.
Then she was seen in Cooking with Bowser and Mario 2 though her appearance is a sprite from the Pokémon games. She teaches you how to make raisins but Mario doesn't want to make them, so that makes her threaten to kill him.
She also appears in Guards N' Retards: Le Train Breach, called "Crazy Raisin Lady".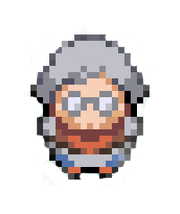 Appearances
Edit
Note, this list is incomplete
"Meet the old man (unintelligible) RAISINS!(?)"
"RAISINS!!" (?)
'Duuuuuuuuuuuuuuck!!'