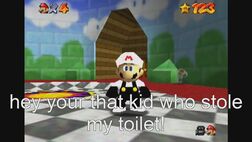 Crazy Indian 
is an Indian who only appeared as the main villain in 
The Switcheroo-Overalls
where he plotted to turn everyone in the world into Indians and wear female underwear. He was later punched by
MCGustavo
(who was in
FightingMario54321
's costume) and he was injured, but he got his revenge later when he took a picture of the group getting naked and changing their costumes and runs off.
Backstory
Edit
Before he appeared in the blooper, MCGustavo had stole his toilet, which made the Indian to get angry and tries to kill him for revenge. In the blooper, he is seen chasing FightingMario54321 who was in MCG's costume, mistaking FM54321 for MCG.
Ad blocker interference detected!
Wikia is a free-to-use site that makes money from advertising. We have a modified experience for viewers using ad blockers

Wikia is not accessible if you've made further modifications. Remove the custom ad blocker rule(s) and the page will load as expected.