"Yeah! And let that be a lesson to you, dip shit!"

―Captain Steve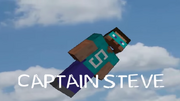 Captain Steve is the superhero version of Steve who appeared in "Ssenmodnar 7 (TOAST Edition)" and "The Super Dudes." His powers consist of super humping, super punch, flying, "Power Of Riddick Nerve" abilities and.... well thats about all he can do... Except his main powers are humping. He reappeares in SM64 Bloopers: Shoot to the Observatory in the Sky, where he tries to save everyone from the blackhole, but he got sucked into it instead he did however get out of it somehow. He also has a major appearance in SM64 Bloopers: The Great Yoshi Race. as a racer with a Minecraft version of Yoshi and was the slowest. He did win against Mario and Bowser for the 6th time in the Annual Yoshi Race.
His arch-enemy is Evil Steve (who is wanted in every state in USA, Mushroom Kingdom & Block Nations[aka. Minecraftia].)
His theme song is the Team America theme.
Captain Steve could be a reference to Captain America, a famous Marvel superhero.

He could also be a reference to Superman, by the way he dresses.