This article is a
stub
. You can help us by
expanding it
.

Luigi just pwns mario about 10 times.
Mario was fed up keep losing by Luigi, Mario and Luigi duel to see who's better on the battle of bros.
Mario and Luigi was playing the Nintendo 64, Mario kepts swearing when he was getting beaten by Luigi to be finished
*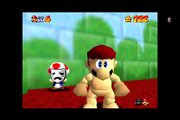 Appearnces
Edit
Ad blocker interference detected!
Wikia is a free-to-use site that makes money from advertising. We have a modified experience for viewers using ad blockers

Wikia is not accessible if you've made further modifications. Remove the custom ad blocker rule(s) and the page will load as expected.