乁(´• ω •`)ㄏ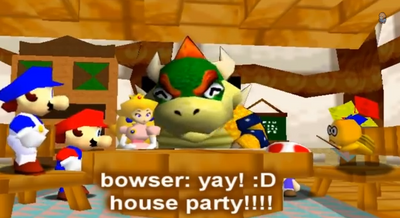 Bowser
is a fat...turtle...dragon...thing who is usually
Mario
's arch-nemesis. In the earlier videos, Bowser was usually one of the main antagonists of the bloopers (besides
SMG3
). He is the leader and king of the Koopa Troop army. His main goals include capturing
Princess Peach
and trying to conquer the world, although his plans almost always failed, and he often needed the help of
SuperMarioGlitchy3
. Bowser has been shown to have used other methods of destroying Mario and SMG4 as well, such as creating
4 Mario robots
&
giving people nightmares with a crystal stone
. Also, he ran a cooking show with Mario on 3 different occasions!. In the newer videos however, Bowser is much less evil and behaves just like Mario and is obsessed with swag. Bowser has started to decrease in appearances as of April 2017. His most recent appearances was in
SMG4 Halloween 2017: Trick Or Treat Wars
and
SMG4: The Movie Audition
Personality
In the earlier episodes, Bowser appears to be his usual self of the Mario franchise, kidnapping Peach and hating Mario, however, as the blooper series go on, Bowser begins to like Mario, and much of his personality appears to influence Bowser, making him act in a rather retarded way.

Relationships
Mario
Mario and Bowser were usually enemies back in the earlier videos, but in the newer ones they can cooperate when they have a common goal, like hating Peach or cooking with Mario in a cooking show (although the latter ended when Bowser tried to make a Ztar, which turned into a hamburger instead, causing SuperMarioGlitchy3 to go make a Ztar himself).
SuperMarioGlitchy3
Bowser and SuperMarioGlitchy3 were the main antagonists of many of the earlier bloopers, often hatching plans to kill Mario and SMG4. Being the evil idiots they are, they often disagree and fight with each other. This inability to cooperate has led to many failed plans. The two only occasionally interacted until the blooper Two evil friends, where they were forced to become partners by Bowser's boss. However, they stopped working together full time after late 2013.
Princess Peach
Most of Bowser's evil plans involve kidnapping Princess Peach. He has a secret crush on her, which is the basis of the plot of Bowser Cyrus - Wrecking Ball.
Bowser Jr.
Bowser Jr. is the son of Bowser. Bowser is shown to worry for his son when he left him alone with Mario in Retarded64: Son of a Bowser.. They both get along very well despite the fact that Bowser sometimes makes other characters take care of his son. In the recent video however, he doesn't seem to care about his son that much. For example, in SMG4: Stupid Mario World, he doesn't care that Bowser Junior is getting bullied or injured. Also, in New Year New Mario, he is shown to not like taking care of his son Bowser Jr.
Trivia
He can successfully copy Peach and Mario's voice.
He hates SMG3 unless it happens that he lives with him.
He's rarely the actual antagonist in bloopers, contrary to his true nature in Super Mario 64 and the Mario series in general.
He can fly.
He loves Justin Bieber, just like Toad and Yoshi, but in the blooper "Mario's Guide to Defeating Bowser 2.0", when Justin Bieber's song is played in the radio, Bowser didn't like his music. He shouts "I'm trying D: AHHHH MY EARSS!EFRW."
The Adventures of Mario and Luigi mini-series is probably Bowser's biggest role as a antagonist in the bloopers with Bowser's appearance not being until the end of Ep. 2 after the defeat of his son, Bowser Jr., and the downfall of his airship as the "surprise" main antagonist after he takes over Peach's Castle to proclaim it as the new Bowser's Castle.
Even though in Super Mario 64 he hates Mario, in SMG4's bloopers, Bowser likes Mario however despite this there are a few instances where he does try to kill Mario like in Super Mario 64 Bloopers: 4 Clones 1 Italian but these instances are kept to a short degree.
He has a JB cutout, which he makes love to as shown in Ssenmodnar 6.64(100k special Qna Edition) .
He's in love with Peach, as seen in "Bowser Cyrus - Wrecking Ball".
According to "SM64: Cooking with Bowser & Mario 2!", he loves melon.
He hates Super Mario Twilight and its sequel because he gets sick and vomits as seen in Retarded64: Son of a Bowser..