This article is a
stub
. You can help us by
expanding it
.

Bill Cosby
(real name
William Henry Cosby Jr.
) is an infamous American actor who made a cameo appearance in SuperMarioGlitchy4's video "
Spells n' Wiztards
".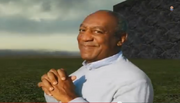 Appearance in "Spells n' Wiztards"
Edit
This video is actually Bill Cosby's only appearance in SMG4's bloopers. In this episode, he got summoned by SMG4 at the wizard academy Hobowarts (a parody of the wizard school from the Harry Potter series) during a spell competition held by Dumbledore, when SMG4 tried to summon a Pokeball. Bill never reappeared since, but it isn't impossible for him to appear in a future blooper.
Ad blocker interference detected!
Wikia is a free-to-use site that makes money from advertising. We have a modified experience for viewers using ad blockers

Wikia is not accessible if you've made further modifications. Remove the custom ad blocker rule(s) and the page will load as expected.