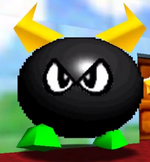 Big Bullies
are essentially larger
Bullies
. They like cookies and Pepsi. Their only real appearance in SMG4's bloopers was in
Boil the Big Bully
. In this blooper, they are in charge of the smaller bullies. One big bully called a meeting for the bullies to tell them that there is an impersonator in the area, that being
Steve
. After Steve is kicked out, he tells the bullies to enjoy the new territory and to not disturb the boss. These bullies are lead by the
Bully Boss
. It is possible the Big Bullies died with the bullies and Bully Boss when SMG4 tricked them with a big cookie, with the Bully Boss being an exception because he died while fighting Mario.

This article is a
stub
. You can help us by
expanding it
.

Ad blocker interference detected!
Wikia is a free-to-use site that makes money from advertising. We have a modified experience for viewers using ad blockers

Wikia is not accessible if you've made further modifications. Remove the custom ad blocker rule(s) and the page will load as expected.